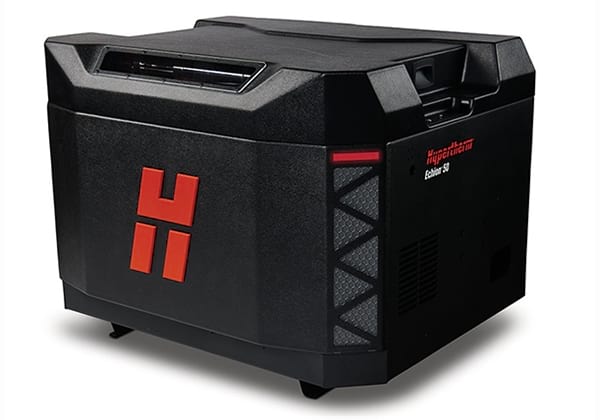 Echion™ waterjet pumps
Simplifying service
Echion leverages the core technology of other Hypertherm intensifier-based pumps to deliver a high-performing pump in a smaller, industrial design.
The Echion family:
Echion 15, 30 & 50
Echion is a replacement of the basic HyPrecision Series. As well as the predecessor Echion is available in three power levels: Echion 15, 30 and 50.
The Echion product family is designed for an easy serviceability while delivering the same consistent quality, trouble-free operation, and reliability you have come to expect from Hypertherm products.
The heart of the Echion pump
The core of the Echion pump is a completely redesigned intensifier which contains the next evolution of Advanced Intensifier Technology™ (AIT). Leveraging many of the key attributes of AIT used in the HyPrecision Predictive pump line, the Echion intensifier allows users to reduce maintenance time and provides increased reliability.
Reduced Maintenance Time
Echion pumps include the next evolution of Hypertherm's Advaced Intensifiert Technology. This technology eliminates soft, static high-pressure seals and incorporates industry-leading cartridge seal design, enabling rapid replacement of common consumables. Common service components are located at the front and center of the machine, equipped with quick-connect fittings, and an easy access bleed-down valve, to make maintenance faster, easier, and less expensive.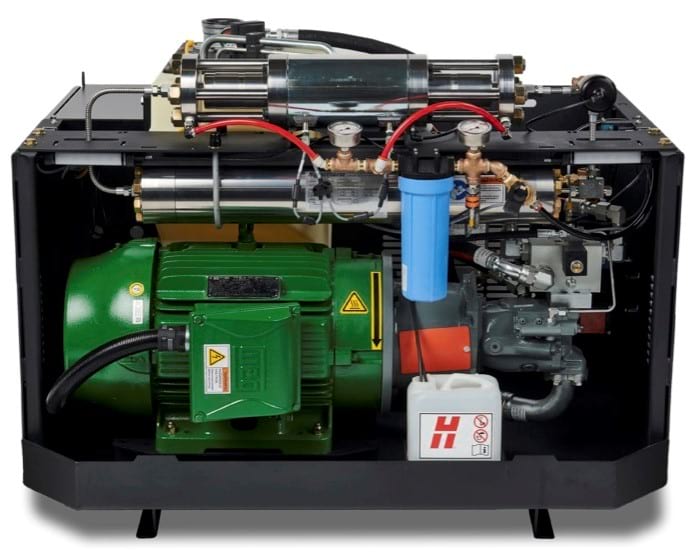 The Advanced Intensifier Technology: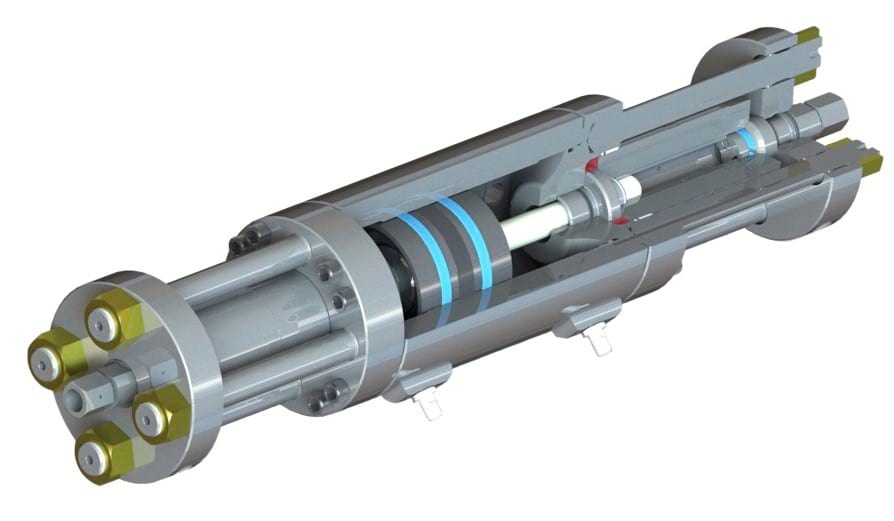 Fluid routing
Captures intensifier leakage to help keep your floor clean.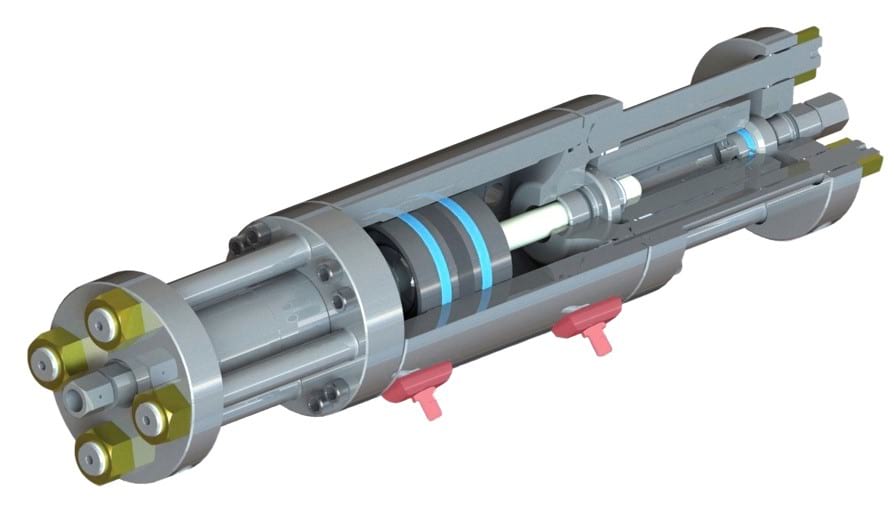 Direct sense piston
Improves reliability and enables rapid stroke reversal to optimize system performance.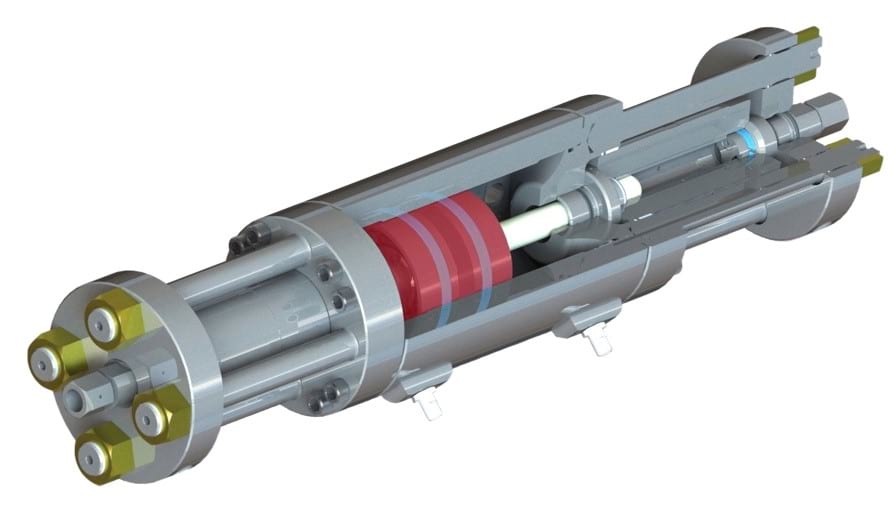 Advanced piston design
Minimizes seal wear and improves component life.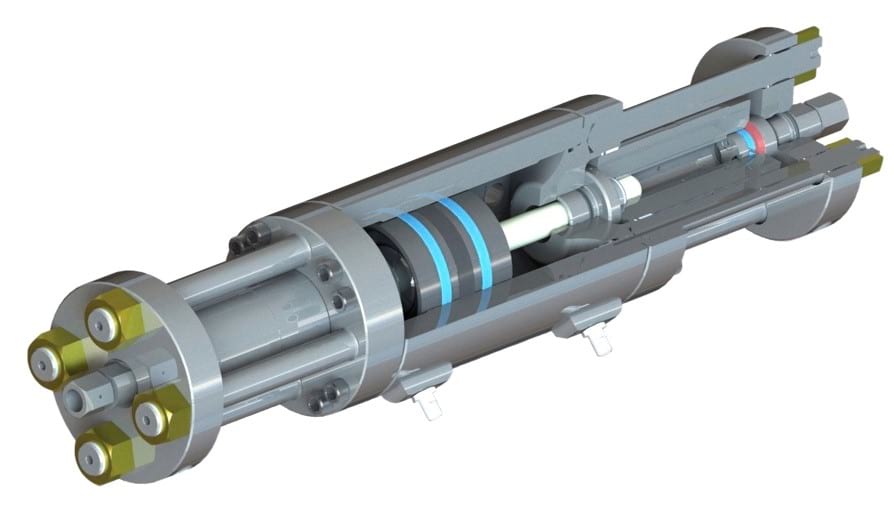 Hard static seal
Reduces maintenance cost through the elimination of soft seal components and specialized tools.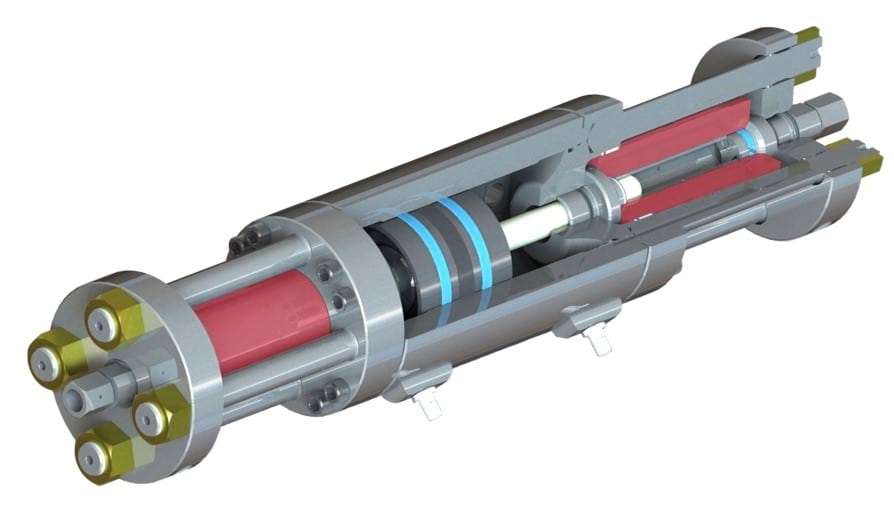 Reversible cylinders
Enables and provides error-proof maintenance.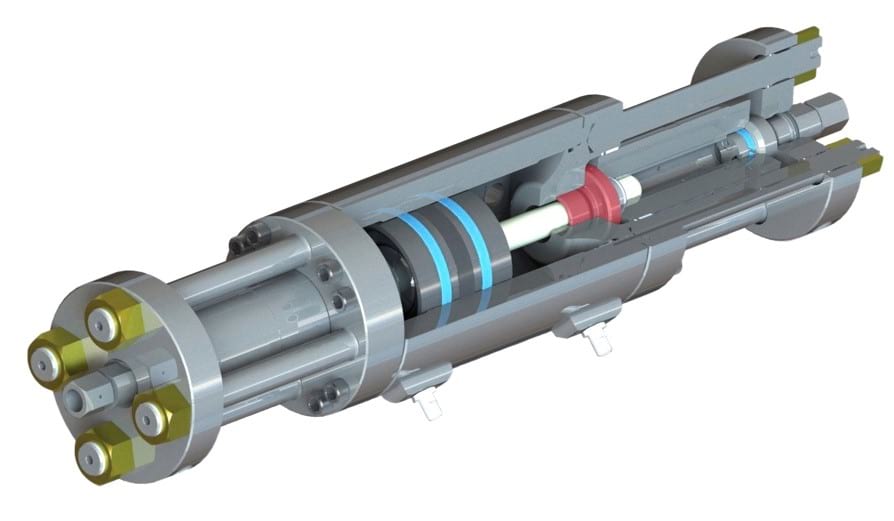 Easy oil and water seal access
Simplifies maintenance by providing easy seal access external to the center section.
In addition, Echion air-cooled pumps include a fully integrated heat exchanger, reducing the footprint of the system. The optional boost pump is also fully integrated to further reduce the system footprint and simplify integration.
Offered with closed-loop proportional pressure control and a color touchscreen as standard features, Echion pumps are designed to deliver an optimal end-user experience.
Technical Data
Pump model number
Echion 15
Echion 30
Echion 50
50 Hz
60 Hz
50 Hz
60 Hz
50 Hz
60 Hz
GENERAL
Maximum output
1.1 lpm (0.3 gpm)
2.3 lpm (0.6 gpm)
3.8 lpm (1.0 gpm)
Maximum orifice
0.18 mm (0.007″)
0.28 mm (0.011″)
0.35 mm (0.014″)
Output pressure
Adjustable to 4,100 bar (60,000 psi)
Pressure control
Closed loop proportional pressure control – standard equipment
Bleed down valve
Air-actuated
PUMP POWER
Motor Power
11.2 kW (15 HP)
22.4 kW (30 HP)
37.3 kW (50 HP)
Voltage
400 V
208–230 V
460 V
400 V
208–230 V
460 V
400 V
208–230 V
460 V
Full load
23 A
45–41 A
21 A
44 A
82–76 A
38 A
74 A
136–124 A
62 A
Main breaker
30 A
60 A
30 A
60 A
100 A
60 A
100 A
200 A
100 A
Motor starter
(options if more than 1 listed)
Across-the-line
Wye-Delta
Soft Start
Across-the-line
Across-the-line
Soft Start
Wye-Delta
Soft Start
Wye-Delta
Wye-Delta
Soft Start
PHYSICAL
Width
1,090 mm (43″)
Length
1,350 mm (53″)
Height
1,010 mm (40″)
Operating weight
775 kg (1,700 lbs.)
825 kg (1,850 lbs.)
925 kg (2,050 lbs.)